Sanatech is a professional exhibition dedicated to the organic and sustainable agri-food production industry. As a company manufacturing organic farming equipment it's natural for us to participate, but there's more!
Technological and sustainable innovation is possible.
MENEGUZZO srl is getting greener and greener, which means that we attach great importance to the sustainable development of our business.
This is evidenced by our investments in self-generated energy production as well as in the creation of a green lung, like "our woods" next to the factory.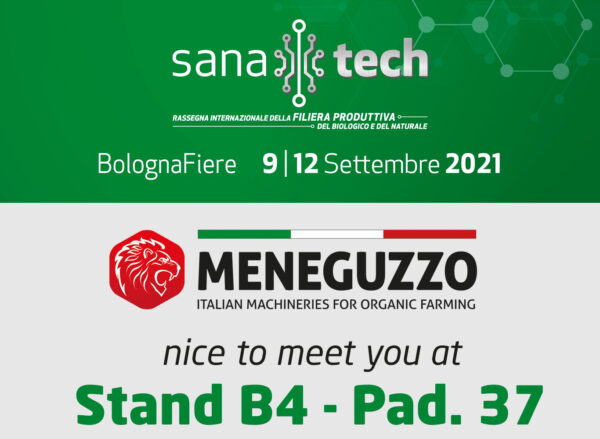 With this spirit we develop and build our "organic" equipment.
At Sanatech 2021 we will be presenting our Weed trimmer for organic farming: a machine that is at the top of its category for weed management in crops. Moreover, it supports a virtuous and environmentally friendly farming system and contributes to the production of healthier food.
Thanks to an increasigly efficient design process MENEGUZZO srl is able to constantly improve its objectives, such as:
more robust and long-lasting machines to avoid obsolescence;
simplicity and linearity to reduce material waste;
high quality components to minimize maintenance;
modular products that address every scalability need;
cost optimization for a constantly competitive product.
In our own small way, we play our part in raising the standards of air quality and saving of energy and resources.
Contact us for more informations